Get your SUBE card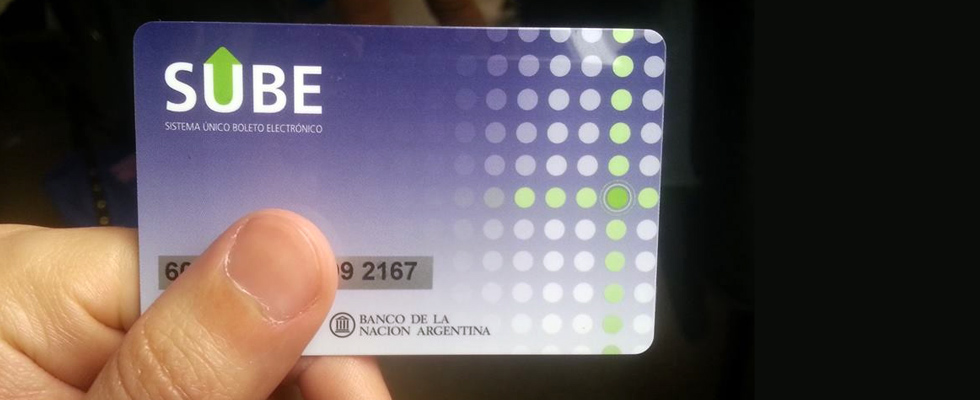 To travel by bus or subte (underground metro) in Buenos Aires, you'll need to get a rechargeable SUBE travel card and charge it with credit.
SUBE cards are available at subte stations, at our eight Tourist Assistance Centers and at many "kioskos" (corner shops selling confectionary and tobacco) throughout the city. Cards can be charged with credit at all subte stations, national lottery outlets, and at some kioskos with automated terminals. To find your nearest point of sale, the SUBE website has a map of SUBE vendors.
Check the interactive map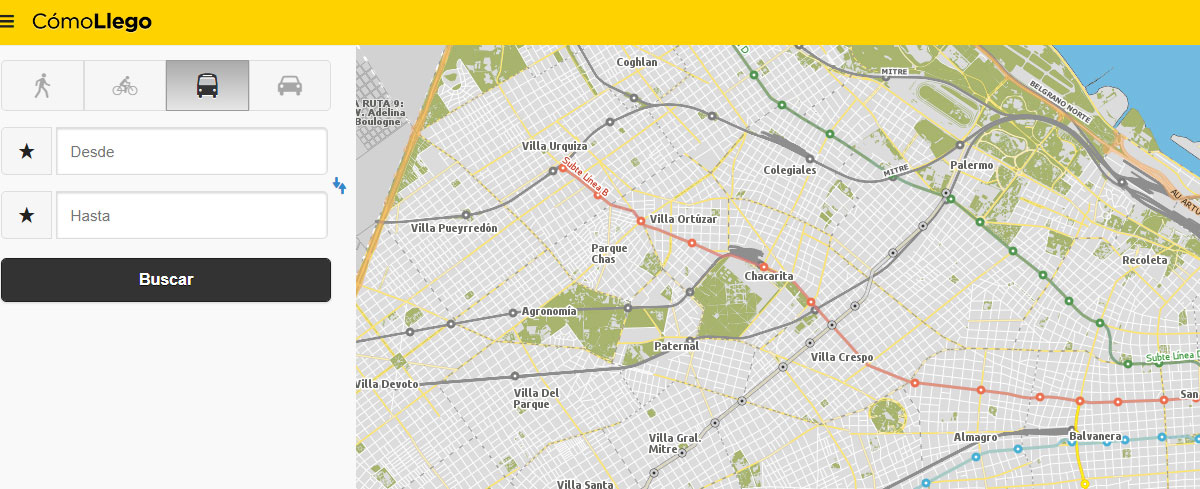 BA Cómo llego? (How do I get there?) is an online map and downloadable app that can help you find the best way to get from A to B in the city, whether on public transport, by car or on foot. Simply input your starting point, your destination and choose how you want to travel, and the map will suggest the best routes. Use the map on the website or download the app.
Subte (Underground train network)

The Buenos Aires subte was the first underground metro (subway) system in Latin America (line A opened in 1913), and it's often the quickest way to get around the city, especially when travelling to and from the downtown area. There are six lines (lineas) A, B, C, D, E and H, which connect the city's main avenues, train stations and coach stations. Lines A, B, C, D and E converge in the centre of the city.
Trains run every three to ten minutes depending on the line, from about 5.30am to 11.30pm Monday to Friday, 6.00am to midnight on Saturdays, and 8.00am to 10.30pm on Sundays and public holidays. Unsurprisingly, trains can get very crowded at peak commuter times (8am-9.30am and 5pm-7pm). The subte website has a detailed map of the network, and you can download a copy of the map as a pdf at the bottom of this page. Stations have free WiFi access.
Bus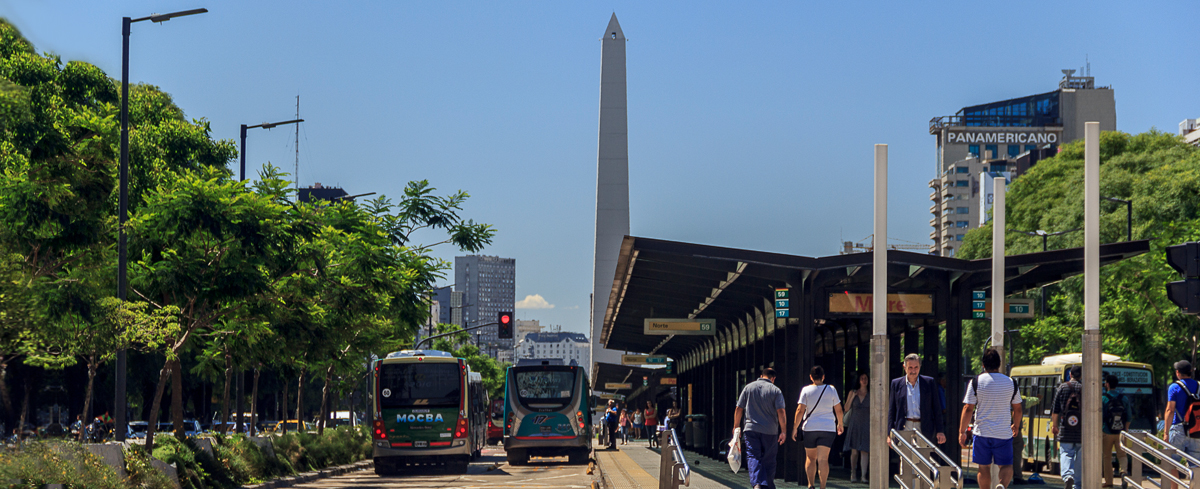 Known locally as 'colectivos' or 'bondis', buses are a cheap and efficient way to get around the city. They run 24 hours a day, 365 days a year, and cover the whole city, meaning that you'll rarely find yourself more than a few blocks from a stop. Tell the bus driver where you are headed (give the name of the crossroad nearest to where they wish to get off) and he will select the correct fare. The "Metrobus" is a bus rapid transit sytem using dedicated bus lanes to cut journey times on several of the city's main arteries. Several Metrobus stops have free WiFi access. 
Cycling and the city's free bikeshare scheme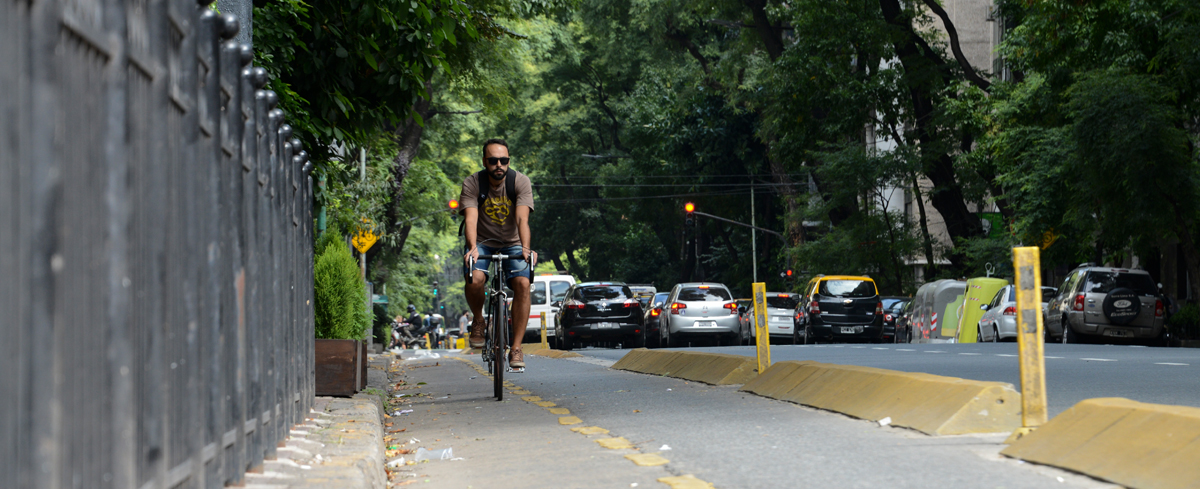 BA is perfect for exploring on bike, with over 200km of cycle lanes and a free public bike share scheme. Find out how to use Ecobici, the 24-hour bike share scheme, here. Bikes can be taken for up to one hour Monday - Friday and up to two hours at the weekend (you can go for a second spin after a five-minute wait).
Train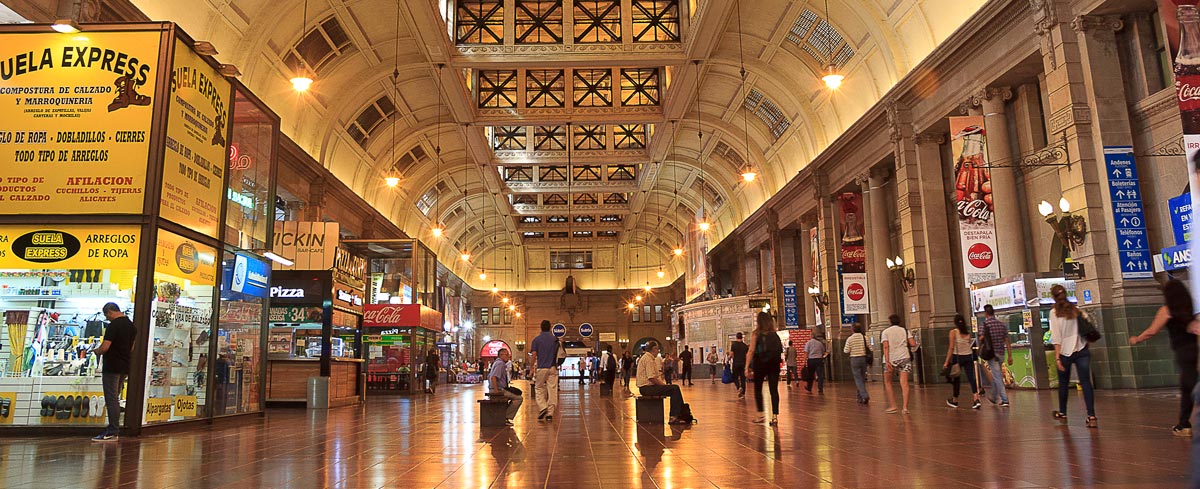 The train is an option when it comes to reaching neighbourhoods further from the centre, or to visit destinations in Buenos Aires Province, such as Tigre and the river delta. Trains are economical and tickets can be purchased at the stations with cash or you can travel using the SUBE card. Trains for Tigre leave from Retiro Train Station and pass through Belgrano C. 
Taxis
BA is awash with licensed black and yellow taxis and in busy areas you're unlikely to wait more than a couple of minutes for one. Often the most comfortable way to get from A to B, they can be flagged down directly off the street on the right-hand side - you can tell if one is available if the 'libre' (free) sign is lit up in the windscreen. Licensed taxis run on meters, and fares are exclusively in Argentine pesos (ARS $). It's common to give a direction to the driver using the cross street, for example instead of saying "Corrientes 585" you would say "Corrientes y Florída", since Florída is the nearest cross street to that address.
Private hire taxis called remises can be booked in advance through agencies, and you can also book regular taxis using the city government's mobile e-hailing app BA Taxi, available for Android and iphone.
Car hire & driving in the city
Many major car hire companies operate in Buenos Aires, in the city centre and at both Ezeiza (Pistarini) and Aeroparque (Jorge Newbery) airports. To hire a car you need to be over 21 years of age, have owned a driver's license for at least 2 years and have the means to pay by credit card.
While you can often park in the street if there are spaces (a few central areas have parking meters), many people prefer the safety of parking their cars in an 'Estacionamiento' (garage). There are hundreds in the city, and you'll rarely have a problem finding one. Just look out for the big 'E' signs.  
And, it's easy to explore on foot...
There's so much to see and enjoy in barrios like San Telmo, Palermo Viejo and Soho, Recoleta, Balvanera and the microcentro (the central downtown area) that they are often best explored in your own time on foot. More and more central streets are being pedestrianized, with improved street lighting and more green spaces, greatly reducing car numbers and fumes.
See our Guided Tours for free walking tours of the city.
See Getting to Buenos Aires for information on how to get to the city from the airports.
Updated August 2017