Whether it's quality leather goods, a bargain antique or a souvenir football shirt you're after, there are no shortage of shopping options in BA. San Telmo's best for antiques, souvenirs and vintage clothing, Palermo Soho for the latest trends in fashion and furniture design, Retiro for quality leather, Recoleta for upmarket boutiques malls, Villa Crespo for its outlets.
Main commercial zones
Below are some of the city's main commercial areas (particularly for fashion and design):
Calle Defensa, between Av. San Juan and Av. Belgrano (San Telmo)

Calle Florida (pedestrianized), from Av. de Mayo to Plaza San Martín (San Nicolás

 and Retiro)

The nexus of streets between José A. Cabrera, Soler, Armenia and Godoy Cruz (Palermo Soho)

Av. Santa Fe, between Av. Scalabrini Ortiz and Esmeralda (Palermo,

 Recoleta and Retiro)

Av. Cabildo, between La Pampa and Av. Monroe (Belgrano)

Av. Corrientes, between Av. Pueyrredón and Av. 9 de Julio (Balvanera

 and San Nicolás)

Av. Pueyrredón, between Av. Rivadavia and Av. Figueroa Alcorta (Balvanera and Recoleta)
Shopping malls
Some of the largest shopping malls are listed below.
Galerías Pacífico (Calle Florida 737, San Nicolás-Centre)
Paseo La Plaza (Av. Corrientes 1660, San Nicolás-Centre)
Patio Bullrich (Av. del Libertador 750 / Posadas 1245, Retiro-Centre)
Recoleta Mall (Vicente Lopez 2050, Recoleta)
Buenos Aires Design (Av. del Libertador, corner with Av. Pueyrredón, Recoleta)
Alto Palermo (Av. Santa Fe 3253, Alto Palermo)
Paseo Alcorta (Jerónimo Salguero 3172, Palermo Chico)
Distrito Arcos Premium Outlets (Paraguay 4979, Palermo Soho)
Solar de la Abadía (Gorostiaga 1898, Las Cañitas, Palermo)
Jumbo Palermo Centro Comercial (Av. Int. Bullrich, corner with Cerviño, Palermo)
Abasto Shopping Center (Av. Corrientes 3247, Balvanera)
Markets and crafts
See our lists of the best fairs and markets in the city, frequented by locals and tourists alike, and our list of arts and crafts shops across Buenos Aires, rhe ideal places to find a unique gift or souvenir. Note that some may close or change their schedules in high summer (Jan-Feb). For food markets, please go to Food Fairs & Markets.
Popular souvenirs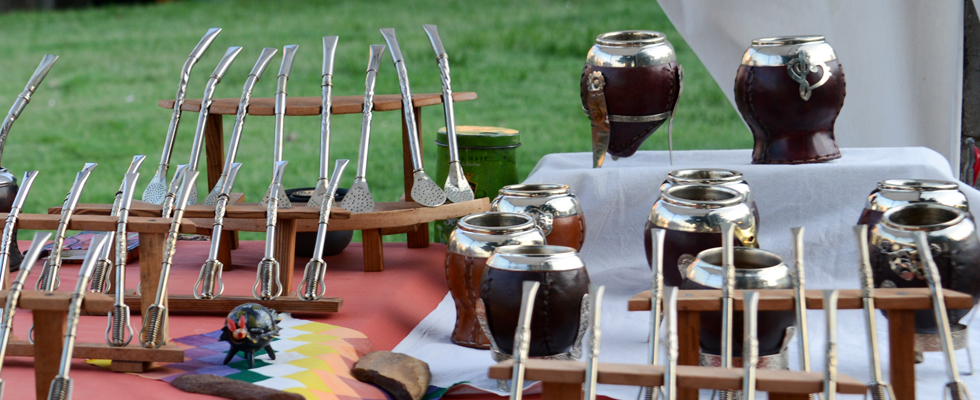 Argentina remains famous for its leather and for traditional silverwork. Many shops sell leather jackets, belts and bags, and there are polo-themed shops and crafts markets that sell traditional gaucho accessories such as gourds for drinking mate, boleadores (stone balls on a chord used for catching cattle), knives and alpargatas (espadrille shoes, traditionally made with rope soles). As well as leather, another traditional material used to make belts, wallets, purses, and other items is the skin of the capybara/carpincho, the world's largest rodent, which is native to northern Argentina and Brazil.
Discount outlets
For discounts on national and international brands, head to these areas:
Aguirre, between Av. Juan B. Justo and Av. Scalabrini Ortiz (Villa Crespo)

Gurruchaga between Jufré and Vera (Villa Crespo)

Murillo, between Av. Scalabrini Ortiz and Serrano (Villa Crespo)

Av. Córdoba, between Lavalleja and Godoy Cruz (Palermo)

Blanco Encalada, between Vidal and Amenábar (Belgrano)
Tax-free shopping
Foreign tourists are eligible to reclaim tax (VAT) on purchases of domestically-manufactured goods with a value over ARS $70 from stores displaying the Tax Free logo. 
The Global Blue website has information in English on the tax reclaim process. AFIP, the Argentine tax authority, also has information in Spanish here: www.afip.gob.ar/turismo/. Remember to ask in store for a Tax Free Form and have your receipt, form and goods ready to show at the Customs Office (Aduana Argentina) at the airport, port or border as you leave the country.