In homage to Argentina's sporting passion, we recap the highs and lows of its almost 90 years of Olympic history.
The dawn of Argentine glory
Jeanette Campbell at Berlín 1936. Source: Argentine National Archive. Photographic doc. department.
Argentina began its Olympic history in spectacular form, breaking records and achieving great successes in the first half of the 20th century. Some of the sports most associated with Buenos Aires and the city's culture saw Argentina make a big impression - for example, the country's first Olympic gold came in polo at Paris 1924. Boxing was another sport at which Argentina excelled, picking up a slew of medals over successive editions of the games.
Other sources of much pride for Argentina were the Olympic record marked by the marathon runner Juan Carlos Zabala at Los Angeles 1932 and the gold obtained by Delfo Cabrera at London 1948. Argentina's first female competitor also became a source of national pride when the swimmer Jeanette Campbell scored a silver medal in 1936. The country's final triumph in this era of Olympic glory was a gold in the men's double sculls rowing in 1952 - the last time that Argentina would win a gold medal in the 20th century.
The period of transition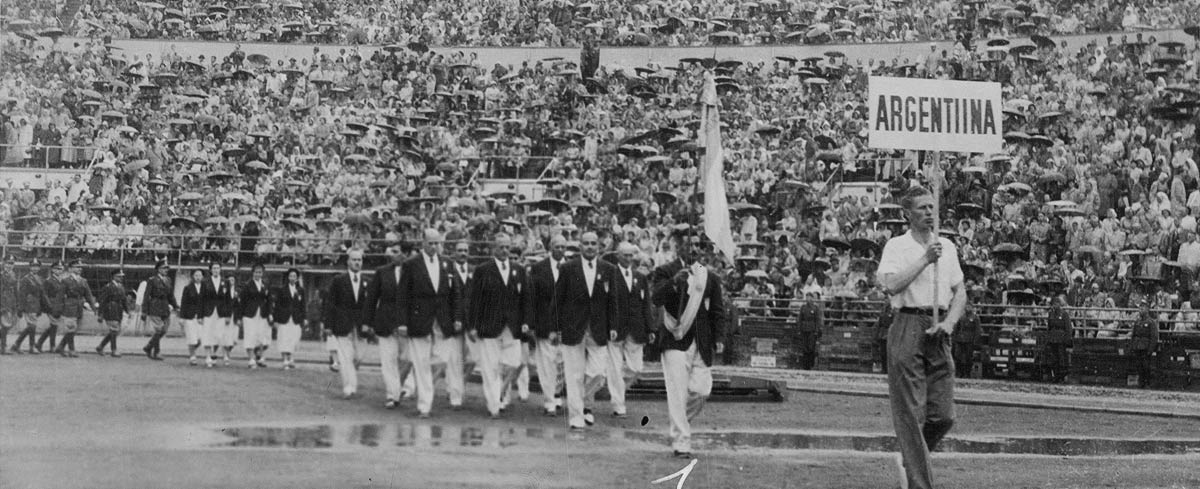 Delfo Cabrera carrying the Argentine flag at the opening of Helsinki 1952, Argentina's last gold of the 20th century. Source: Argentine National Archive. Photographic doc. department.
The second half of the 20th century saw less success in the medal tables, but Argentina continued to stand out in boxing, rowing, sailing, equitation and volleyball. Tennis player Gabriela Sabatini brought back a silver medal from Seoul 1988.
The Barcelona games of 1992 offered a premonition of better times to come in the form of a gold medal for roller hockey, which was included as an exhibition sport, and at Sydney 2000, Argentina won four medals - three in sailing and one thanks to the great success of the women's field hockey team, Las Leonas (The Lionesses).
On the path to glory once more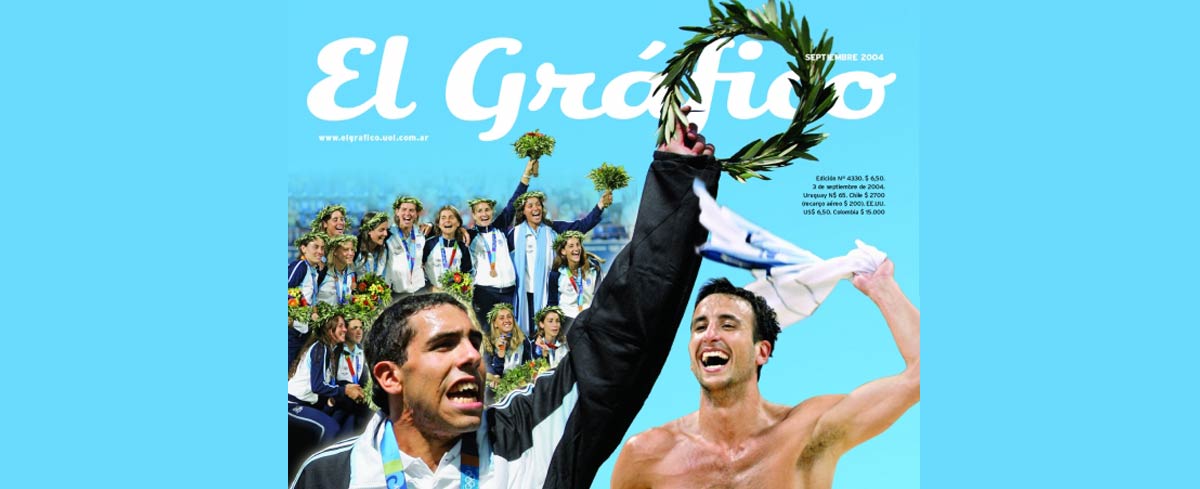 Ginóbili and Tévez, gold medal winners at Athens 2004. Source: Argentine National Archive. Photographic doc. department.
Athens 2004 saw Argentina truly emerging to pick up a spree of medals including golds in basketball (thanks to Ginóbli's "golden generation" team) and in football, while Las Leonas brought home a bronze in women's field hockey, to join medals in tennis, sailing and swimming.
The new century also Argentina begin to excel in martial arts, picking up a gold in Taekwondo in 2012 and in judo in 2016 (following a bronze in the same sport in 2008). The men's field hockey team also had their moment in 2016, gaining a gold.
Argentine Olympic Trivia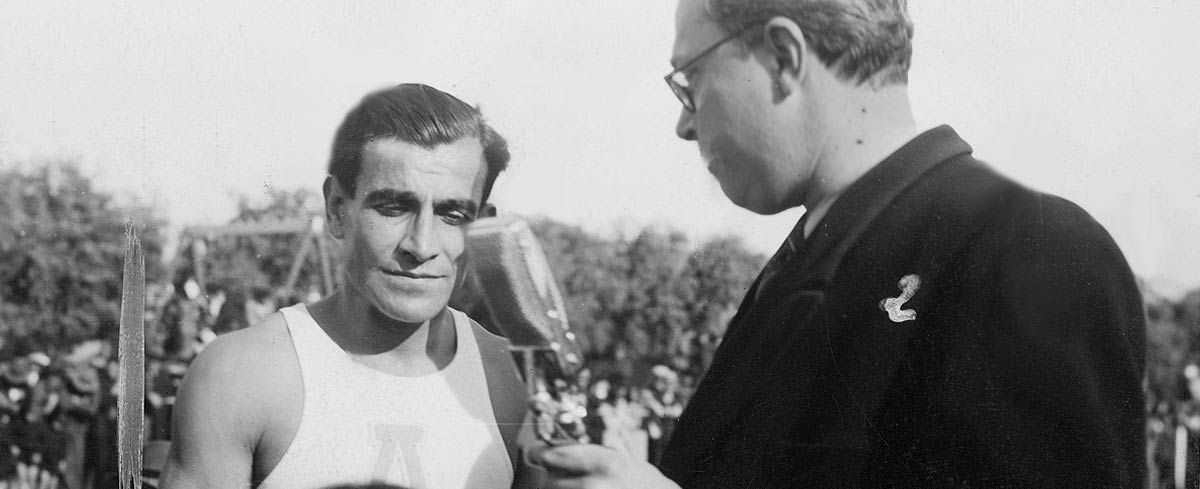 Juan Carlos "el Ñandú" Zabala, Argentina's first gold medalist marathon runner. Source: Argentine National Archive. Photographic doc. department.
The country won seven medals at Amsterdam 1928, Berlin 1936 and London 1948.
The date August 7 became the National Olympic Day because the two marathon runners Zabala, in 1932, and Cabrera, in 1948, won their gold medals on this date.
Argentina has won a total of 74 Olympic medals, 24 of them in boxing.
Argentina won no gold medals for 52 years - from Helsinki 1952 to Athens 2004.
Argentina has participated in 21 editions of the Summer Olympic Games.
How to experience the Olympic spirit in Buenos Aires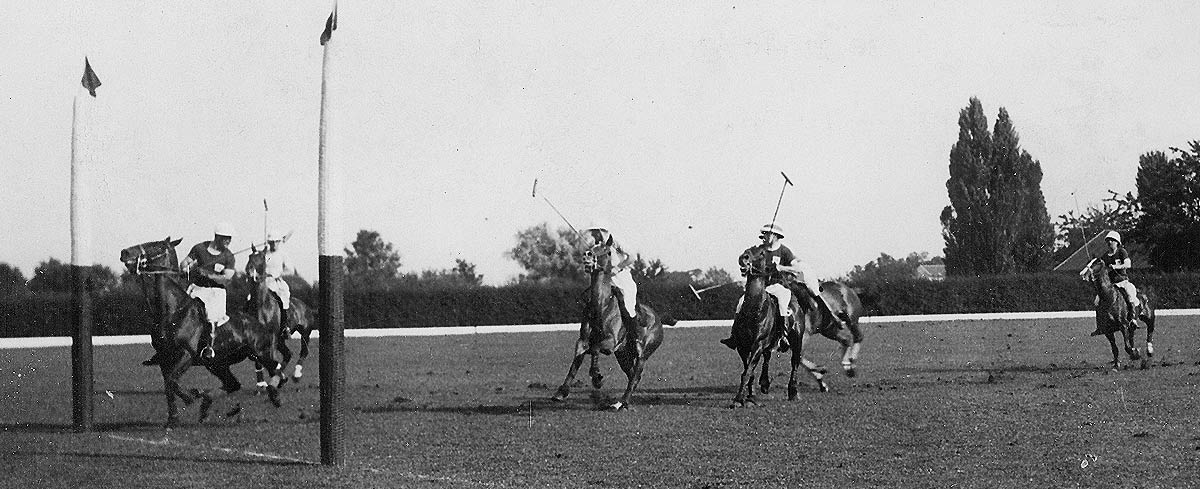 The Argentine polo team beats Great Britain at the 1924 games. Source: Argentine National Archive. Photographic doc. department.
Argentina was the host city for the 2018 Youth Olympic Games and part of the Olympic spirit remains in te city. Explore Argentina's sporting triumphs with a visit to the Walk of Glory, a sculpture trail dedicated to the country's sporting greats, while legendary sporting venues in the city include Luna Park, famous for its role as boxing venue during Argentina's period of glory in this sport, the polo ground in Palermo, known as the "Cathedral of Polo," and the city's many soccer stadiums, where you can experience the passion of a match up close.
Learn more about sport in Buenos Aires