Beef is the grand protagonist of Argentine gastronomy. The country consumes 50kg per capita every year; and top of many visitors to-do list in Buenos Aires is to try the steak, traditionally cooked on a wood- or charcoal-fired parrilla (barbecue grill).
The city's steak houses and restaurants are also known as parrillas, and there are parrillas to suit every taste, from traditional, family-orientated neighbourhood favourites to the most modern and sophisticated. Here we list some of the best, and offer a glossary to help you find our way around the menu, and distinguish your ojo de bife from your bife de chorizo.
360º video
Choosing your cut.
Argentine cuts of meat may differ from those in your countries, and parrillas often offer a stunning variety of cuts, so deciding what to order may seem a challenge at first, but some of the prime cuts are bife de chorizo (rib eye steak/entrecôte - often served cut butterfly-style), ojo de bife (the centre part of boneless prime rib steaks), lomo (tenderloin), entraña (skirt steak), or asado de tira (short or chuck ribs).
Other popular tasty cuts are vacio (flank), cuadril (rump) and bife ancho (boneless prime rib steak)
The picture below identifies most of the key Argentine cuts.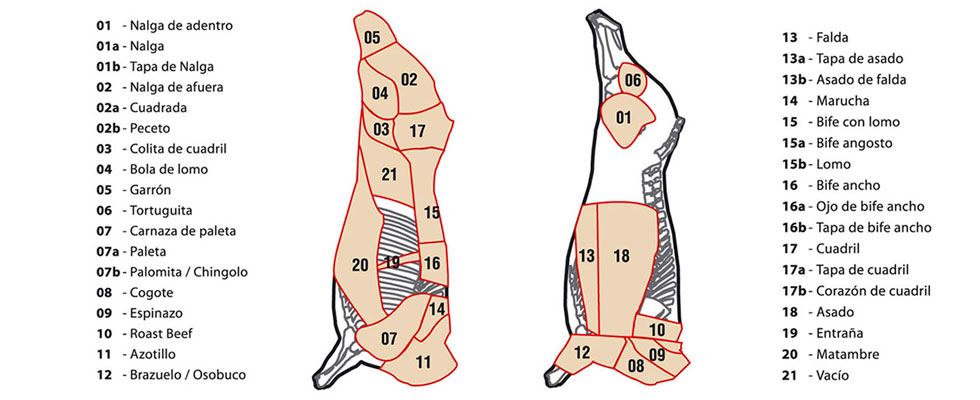 A full parrillada (mixed grill, often served for two of more people to share) will often include other meat delicacies, such as:
Morcilla – blood pudding
Mollejas – sweetbreads
Chinchulines – small intensines
Riñones – kidneys

Choosing how you like your meat
When your waiter asks you how you like your meat, a good rule of thumb is to remember that generally in Argentina, locals prefer the meat to be more thoroughly cooked than in the northern hemisphere, so you may have to go a notch lower than what you might normally ask for.
For reference:
Vuelta vuelta: rare
Jugoso: medium-rare
A punto: medium
Pasado de punto: medium to well done
Cocido: well done
Bien cocido: very well done
Sauce and sides?
Fried potato chips and salads are the most popular accompaniments. As for condiments, locals often eat their steak with nothing more than salt, letting the meat's own flavour shine. If you like a bit of kick, ask for chimichurri, Argentina's typical sauce made from garlic, wine vinegar, oil, pepper and herbs such as parsley and oregano, purported to take its name from a mishearing of British immigrants' demands of "gimme curry".
And vegetarians?
It might sound like Buenos Aires is not a city for vegetarians, but as a large, cosmopolitan city, there are actually a very large number of vegetarian options. Many parrillas also offer vegetables "a la parrilla", peppers, sweet potatoes and aubergines being favourites, as well as pizza and pasta dishes.
Choosing your Parrilla
But first you need to choose where to eat! Below you'll find some a selection of some of the city's most recommended parrillas.