The charm of the barrio
Developers wanted to rename it Palermo Queens as an extension of trendy Palermo with its divisions – Palermo Hollywood, Palermo Soho – on the other side of Córdoba Avenue, but residents wouldn't have it. Everyone who lives, works or plays in this neighbourhood knows that this is Villa Crespo, and will never be anything else.
While the area's growing and evolving, it's proud of its history, character and identity, exuding a more understated charm than in hip Palermo, and a more casual atmosphere in keeping with its working class history. Cobbled streets still awake to the sound of birdsong on a Sunday morning and long-standing neighbourhood shops and cafes retain loyal followings while the new bars, galleries, microbreweries and restaurants that choose Villa Crespo over Palermo find a different rhythm in a neighbourhood that still feels like a true "barrio".
A workers' bohemia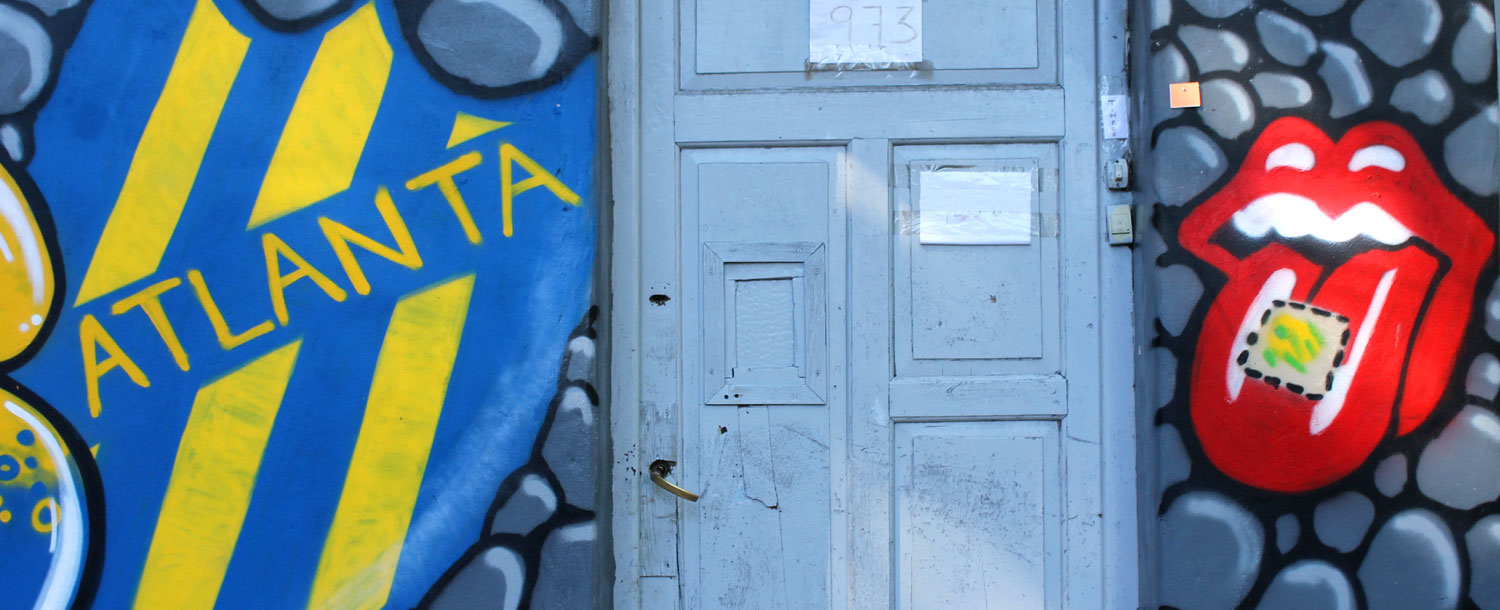 A good place to start exploring is right where it all began: at the plot that belonged to the Fábrica Nacional de Calzado (the National Shoe Factory), between the streets Warnes, Scalabrini Ortiz and Corrientes. Established in 1888, it was this factory that drew immigrant workers here, helping the neighbourhood to grow and gaining the area its association with leather produce. The legacy of this can be found if you wander along Calle Murillo, where you can smell the leather from the sidewalk as you pass the dozens of leather stores still clustered here.
The workers who settled around the former factory came mainly from Italy but there were also many Spanish, Jewish and Arab immigrants who often lived together in tenements called "conventillos," where many languages were spoken and many rhythms, dances, and foods shared. One tenement still standing at Serrano 152 was the inspiration for Alberto Vaccarezza's El Conventillo de La Paloma, a hugely popular comic play from 1929. Keep following Calle Murillo across Juan B. Justo and you'll reach another major neighbourhood landmark, Club Atletico Atlanta (Humboldt 540). While Boca Juniors, which has the same colours, is the more famous team, it's a lot easier to get a ticket to see the passion of a local match at this second division club. Nicknamed Los Bohemios (The Bohemians) because the team had no fixed abode for many years, it finally made itself at home at this 34,000 capacity in 1960. While Boca Juniors in the south chose its colours from the flag of a Swedish ship in the port, Los Bohemios chose blue and yellow because these were the colours used in the awnings that decorated the neighborhood stores in this area – now the inspiration has been reversed and the walls and shutters of many local businesses are painted blue and yellow in proud support for the club.
Something's brewing
Directly opposite the gritty authenticity of Los Bohemios' stadium, you can stop for a coffee and a bite of gourmet cuisine at El Yeite (Humboldt 293), a cafe run by pastry chef Pamela Villar and fashion designer Jessica Trosman, whose fashion studio is nextdoor. It's in this apparent incongruity that you start to feel Villa Crespo's contemporary creativity. Amid its timeless cobbled streets, there's also a feeling that something new is bubbling up; a creative spirit of renewal that's respectful enough of the neighbourhood's tradition and history to fit right. El Yeite is far from being the only gourmet cafe to choose quiet, laidback Villa Crespo over hip Palermo: there's Malvón (Serrano 789) with its mean brunches and sourdough breads, Cafe Crespín (Vera 699), and many more. And they seem right at home alongside neighbourhood classics – if you're ready for lunch, try the green sorrentinos with goats cheese, sun-dried tomatoes and spinach at classic pasta joint Salgado Alimentos (Juan Ramírez de Velasco 401) or stop at Jewish stalwart La Crespo (Vera 1001) to pick up a super pastrami sandwich before continuing to explore.
The neighbourhood's cultural creativity comes out in novel combinations of interests and passions. For every classic old haunt like the 50-year-old record store Disqueria RGS (Corrientes 5200) in the Galecor shopping arcade, there's a quirky new offering like Velazco Disquería y Bar (Juan Ramírez del Velasco 492), a new meeting point for the neighbourhood that's half bar, half vinyl record store where you can browse records and pick out something to listen to while you drink a pint of craft ale. Gould Libros (Acevedo 388) specialises in books on music, cinema and graphic novels, and also offers piano classes, while Mandrágora Libros y Cultura (Vera 1096) with its bright white facade is an old house that's home to a family-run and meticulously curated bookstore that also offers presentations, talks and workshops.
The neighbourhood's tango patron saint.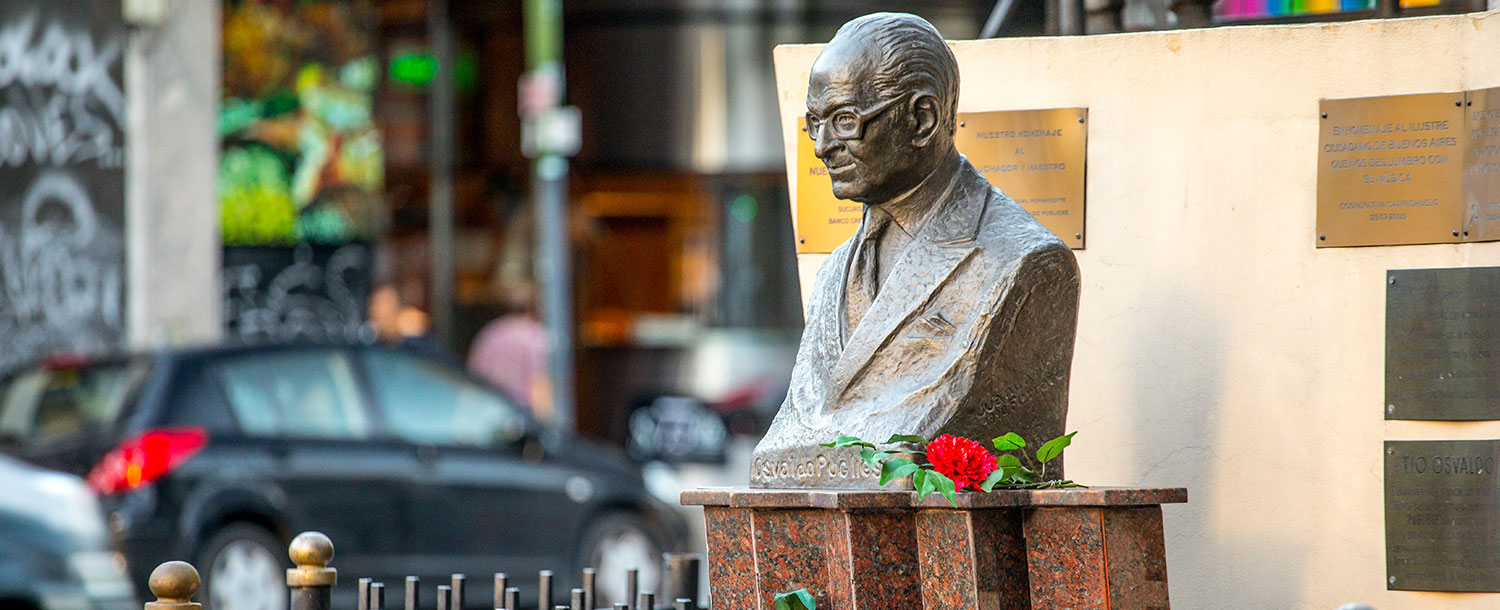 A balding bespectacled gentleman wearing a white shirt and a bowtie sits with his hands on the keys, a red rose on the piano before him, and his orchestra lined up in front of him, his singers, violinists, bandoneonists and bass player in full flow. This peculiar shrine at the intersection of Corrientes, Scalabrini Ortíz and Luis María Drago is a tribute to one of the people who best personified Villa Crespo's mix of creative culture and social spirit. The son of a shoemaker at the factory that spawned this neighbourhood, Osvaldo Pugliese (1905-1995) was a phenomenal tango composer and musician who ran his orchestra as a cooperative and spent time in jail because of his Communist politics (during which stints his orchestra would play without a pianist and with a red rose on the piano to symbolise Pugliese's absence. His music and humility made Pugliese a legend in his own lifetime, but since then he has also become a talisman for the neighbourhood and beyond, a kind of pagan patron saint whose image appears on cards and painted on walls as a lucky charm since a rumour began among local rock groups that playing a Pugliese album could fix all kinds of technical sound problems ahead of a concert.
The night
Tango leads us to the night, and there are several milongas in the neighbourhood where people continue to dance to the music of Pugliese and the other great tango maestros of the 40s and 50s - Club El Fulgor (Loyola 828) and Villa Malcolm (Av. Córdoba 5064) were both old haunts of Pugliese himself, while Espacio Cultural Oliverio Girondo (Vera 574) offers a more contemporary underground tango vibe. But Villa Crespo offers something of everything. Buenos Aires has long been famous for its theatre scene, and Villa Crespo has its own small but thriving underground scene centring on the unassuming little street Juan Ramírez de Velasco, where there are two theatres on one block Nün Teatro Bar (Juan Ramírez de Velasco 419), and El Arenal (Juan Ramírez de Velasco 444). There's a clutch of small theatres in the surrounding streets, while a more recent addition on the edge of the neighbourhood, Microteatro (Serrano 1339), stages short plays of 15 minutes for just 15 spectators.
For drinks, La Cava Jufre (Jufre 201) is a cosy wine bar with a very personal touch – just tell Lito, the owner, what you want and he'll choose the right bottle for you. And Villa Crespo is also a neighborhood that's started trends: 878 (Thames 878) was one of the first "hidden" closed-door bars in the city, introducing the concept in a low-key way without the theatricality of the themed speakeasy-style bars in Palermo. With no sign at the entrance, the fact that the bar is in a quiet residential street creates an even stronger feeling of being in the know when you make a visit.
The alternative vibe
Looking for something different? Casa Brandon (Luis María Drago 236) is an LGBT cultural centre described as a heart with a roof. Open to all, it hosts everything from live music to poetry readings, book launches, film screenings and performance art, and is particulary famous for its Wednesday Gay day parties. Club Cultural Matienzo (Pringles 1249) is another emblematic cultural centre which packs an old three-story house full of visual art, theatre, literature, talks, comedy, indie bands and cinema festivals.
Last stop for night owls, and one of the most curious is Café San Bernardo (Corrientes 5436). Buenos Aires has 80 "bares notables" – listed historic neighbourhood cafes. Some of them are grand and elegant, like Cafe Tortoni or Las Violetas in nearby Almagro, but Cafe Bernardo couldn't be more different. "It shows the scars of 107 years," says Laura Ávila, part of the family that runs the cafe-cum-bar-cum-social club, "this is a dinosaur and we have to look after it". The venue opened in 1912 as a billiard club and has barely slept since, opening 9am to 5am every day, and to everyone from sextagenarians who meet day in, day out to play cards and dominoes, to millenials who come to play ping pong into the early hours. "People come here and they breathe in something different," Laura says. "Here you get a taxi driver, a pensioner, a business man and the lad who sells avocados in the entrance to the subte sitting down to play chess together. This only happens somewhere special."
This rough and ready venue that has survived the decades is characteristic of Villa Crespo´s laid-back vibe. "One hundred years ago, Villa Crespo was a suburb," Laura says over the gentle pock and thwock of cues and paddles hitting balls in the background. "But in the suburb there was culture too – the culture of the workers, the immigrants, of tango, of the ruffians. It's this neighbourhood culture that creates an identity and which Villa Crespo has been able to preserve, and that's why people here are proud of the neighbourhood. Pugliese played here, Paquita Bernardo (Argentina's first female bandoneon player played her. Villa Crespo is a neighbourhood with lot so personalities and with a tremendous identity. People came from all over and this mix of cultures gave way to a kind of swagger that still attracts young people. I'm not from the neighbourhood and all my life I was searching for an identity, like I didn't feel from anywhere, and yet here I've found my place."