Simple, sober and free of ornamentation, rationalist architecture provides a counterpoint to the style of the French Belle Èpoque.
One of the most emblematic examples in Buenos Aires is the Kavanagh building, facing Plaza San Martín in the Retiro neighbourhood. Inaugurated in 1930 after just 22 months of construction, this is 120-metre reinforced concrete structure was the tallest building in South America at the time. Its characteristic stepped design, which was a result of regulations on the maximum heights of building, was taken advantage of to create terraces and lookout points. The project, led by the studio Sánchez, Lagos y De la Torre, was commissioned by Corina Kavanagh, member of a wealthy family of Irish origins.
Sporting sites
In the Parque Patricios neighbourhood, Club Atlético Huracán's sports centre follows rationalist lines. Inaugurated in 1941, it was designed by the architect Miguel Curutchet. Various sports are practised here, including hockey, handball and gymnastics.
Another important venue with a rationalist style is Luna Park, one of the city's most famous venues for sporting and music events. Though the building has horizontal windows, purist lines and flat roofs, its rationalism differs from that of the traditional school through the use of red colouring. The "Luna" opened in 1932 with the carnival dances of that year and has hosted major political, social and sporting events. It's believed that Juan Domingo Peron and Evita met here, while Carlos Gardel's public wake was held here, and footballer Diego Maradona even got married here.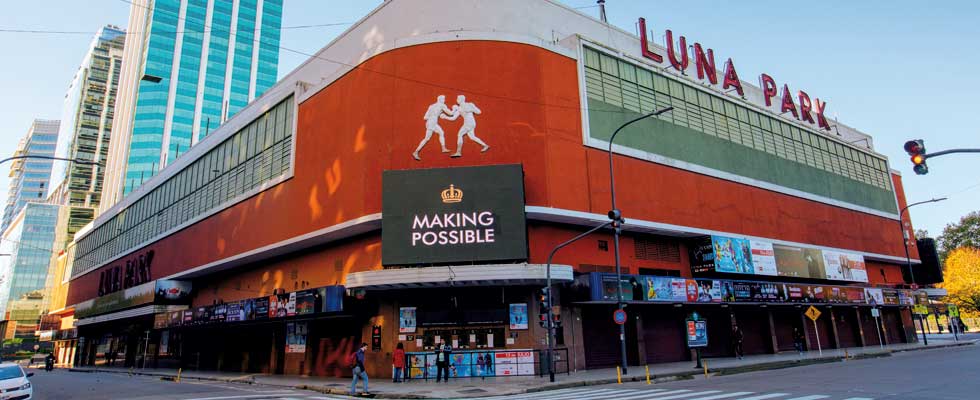 Sober and discreet hospitals
When the writer Victoria Ocampo chose a proto-rationalist style for her home in Barrio Parque, she'd never have imagined that this architectural innovation would go on to influence the design of three hospitals in the city: Hospital Argerich in La Boca, Hospital Rawson in Barracas and the Hospital Churruca, which has a single one-storey block and a second building behind.
Buildings made to measure
The sculptor couple Raquel Forner and Alfredo Bigatti bought a lot in San Telmo in auction in 1935 and hired the architect Alejo Martínez, a student of Le Corbusier, to design their home and workshop with a rationalist style. Bigatti worked on the ground floor and Forner on the upper floor, and because they both produced large-scale pieces, they had an extra large entrance specially designed. Today the building is a house musuem with a specialist library.
As the sculptors built a functional home, in 1950 Juan Domingo Perón opened as specially designed building for the Confederación General del Trabajo, Argentina's trades union confederation. The building with different volumes pleased the president and resulted in its architect Jorge Sabaté being made mayor of Buenos Aires two years later. The building still has something of a Peronist aura about it, thought the zone is no longer so representative of the working classes - it borders the exclusive Puerto Madero neighbourhood.