The great writer Jorge Luis Borges said he believed Buenos Aires to be "as eternal as water and air," and this timelessness can be found in traditions and arts that feel like they've been around as long as the city itself, and which continue to thrive. One tradition that captures the special eternal quality of the city's streets and neighbourhoods is Buenos Aires' very own vernacular decorative art and typography: the fileteado.
A tradition with twists, turns and new directions
Sharing the same original social context as the tango – the working class neighbourhoods of the 19th century, the carts and markets, the immigrants and the popular expression of local pride in a capital that was rapidly growing from a village into a city, fileteado, with its bold colours and floral flourishes, evokes nostalgia for Buenos Aires' past. Yet, like tango, it's something that continues to develop and remains as relevant as ever in this fiercely creative city, where traditions evolve but never die. Now young artists, graphic designers, sign painters and even tattooists are looking to the fileteado as a sign of identity and a source of inspiration, rediscovering and adapting the form to different media, from sports shoes to the human body, and gaining fame abroad.
Gustavo Ferrari, 35, is one of them. While he maintains his regular stand at Defensa 500 on the Sunday antiques fair in historic San Telmo, this fileteador, as the artists are called, now teaches workshops around the world and has students coming from all over to study with him in Buenos Aires. Ferrari creates traditional pieces but also tries to break the mould, sometimes toning down the bright colours with black and white designs, introducing characters and other motifs.
"Tango orchestras in the 30s and 40s spoke of the city at that time," Ferrari says. "But modern tango orchestras have to describe the city now, and fileteado is the same."
He took up the art at the age of 18, partly as a way to relax and get away from the books while he was studying history at university, and partly because of fond memories of the neighbourhood where he grew up.
"Really, at that time, in the 80s, fileteado was seen as something a bit common - too popular and colourful. The old masters were dying and it was a difficult time. But one of my first visual memories from childhood growing up in the neighbourhood of the Abasto, is of León Untroib's Carlos Gardel mural, which you can still see in the Carlos Gardel subway station," he says. "For me it was something incredible that really caught my attention because of the forms and the colours."
A symbol of identity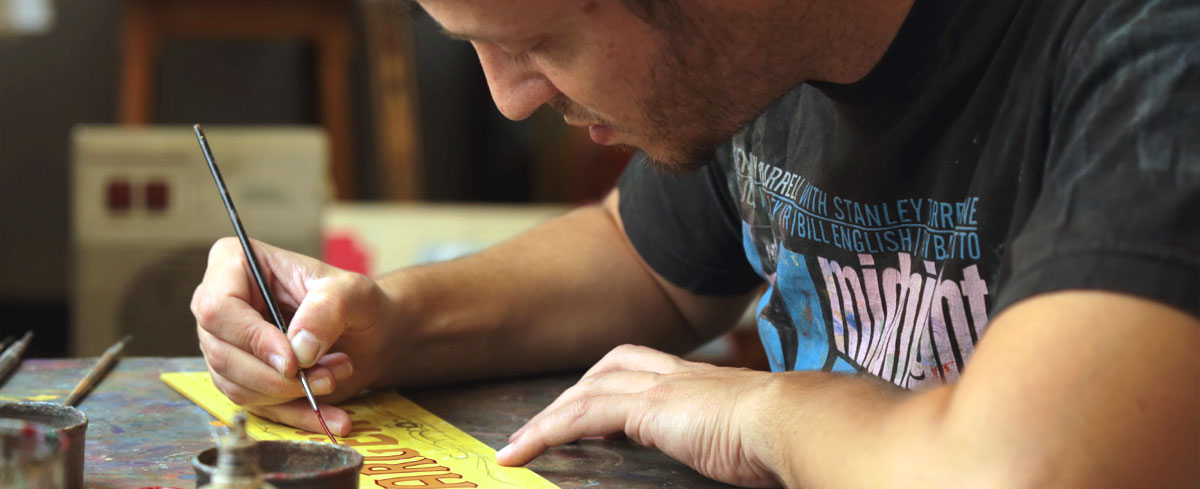 As a former history student, Ferrari's well-placed to explain the story of fileteado and its intimate relationship with the city's visual identity. While early evidence is scant owing to its humble origins, the art form seems to have been developed in this port city by Italian immigrants towards the end of the 19th century to decorate wooden trade carts, first with simple decorations and later incorporating monograms using the initials of owners' names. Fileteadores then began taking inspiration from the buildings going up in the rapidly growing city – places such as the extravagant Teatro Cervantes – and the style developed its own visual vocabulary with birds, dragons, acanthus flowers, rules regarding the size and balance of the different elements, and its own techniques, such as the use of yapan – transparent varnish that creates volume while allowing colours to pass through.
The tradition expanded to trucks and public buses – the city's famous colectivos – in the 1920s and 30s, becoming the "bling" of the age: truck owners would compete for the most extravagant decorations, which began to include names and longer texts.
"Trucks were a tool of work but also the place where the owner expressed himself and his pride in what he'd obtained. When the manufacturers delivered a new truck, they'd drive it all around the market so that everyone saw it before they handed it over to the owner. The next day other stallholders would come and say, 'you know that truck you made for that guy? Well, make me one that blows it out of the water'."
It's an art that takes great skill and dedication. Special 4 – 4.5cm brushes made from the hair of cows' ears allow the artist to make long continuous curves without stopping to get more paint. The artist holds the brush with three fingers, using the little finger to support the weight and pivot the hand.
"When you start, you realise just how complicated it is and how much time and practice it takes to do it well, and that's fascinating" Ferrari says. "Nobody wakes up able to do good fileteado; it takes daily practice. You have to be sat drawing and painting all the time."
The resurgence in recent years initially came through the boom in tango tourism, with businesses seeking to identify themselves as "traditional", but now the style is more generally seen as a language through which to express the city's identity and the authentically "porteño" - an association that's continued to grow since UNESCO declared fileteado part of humanity's intangible cultural heritage in the year 2015.
"There's been a general revaluation of manual art and handmade products," Ferrari says. "Now more and more people are teaching and learning, and it's established now as part of the visual identity of the city. There'll always be more fileteado in San Telmo, La Boca, Abasto, but it's spreading. It's known around the world and appreciated by the establishment as art, not only something commercial."
From tradesmen's carts to the human body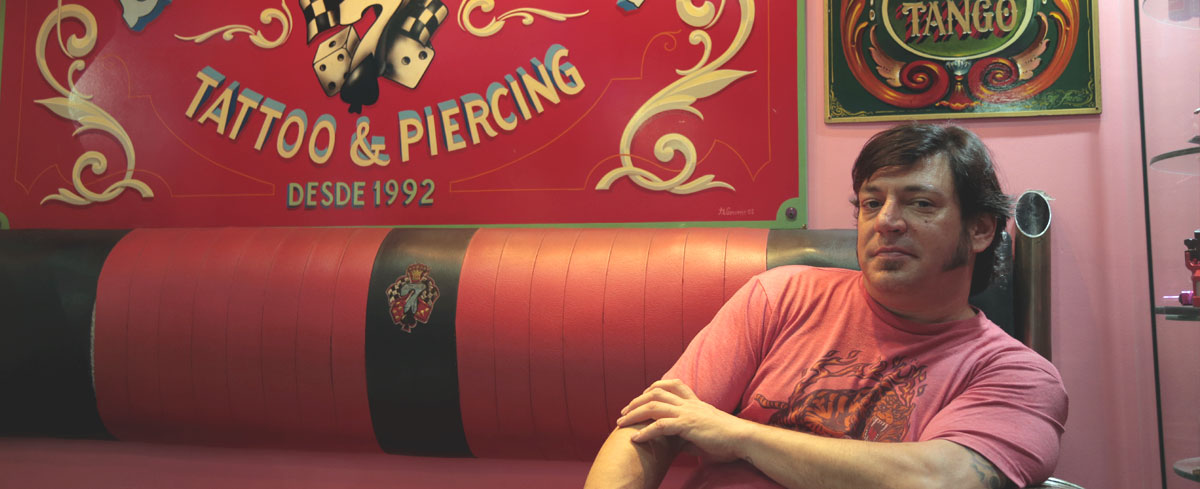 One big development has been the jump from moving vehicles to moving bodies. Fileteadores are increasing designing tattoos, and more and more tattooists are learning to "filetear". Gustavo Ferrari has designed tattoos for visitors from all over (he recalls a German tourist who wanted to word "tango" tattooed on his arm so it could be read when he embraced his partner on the dancefloor). The pioneer of this trend was Claudio Momenti, of Lucky Seven tattoos in Recoleta's Bond Street arcade, a self-taught "bandit" tattooist who was looking for his own identity.
"Japanese tattooists use Japanese mythological animals and images from the year 1600, so I started to look for something in our own autochthonous history to compete with that," he says.
"Fileteado is part of the local culture and it's a style of ornamentation you can use to express something personal: your club, your family, your neighbourhood. You can use its symbols to surround a lot of different things. It's a cultural and historic icon but it has a lot of force and beauty. It's not nostalgic for me, it's something very uplifting."
It was hard to get started. He had to find a way of incorporating the lines necessary for drawing with ink on flesh, and of adapting the form to the articulation and movement of the body. And no one was very keen to help him at first.
"The few masters who were around at that time were very closed. They didn't want to teach me anything. . .  There were things they didn't want you to see how they did, like it was a secret . . . and other tattooists laughed at me".
Tattooing has since exploded in popularity in Buenos Aires, largely thanks to Maradona and other tattooed footballers, and Momenti now attracts attention at international conventions, where the fileteado has become a recognised style in the tattooing canon.
From Argentina to the World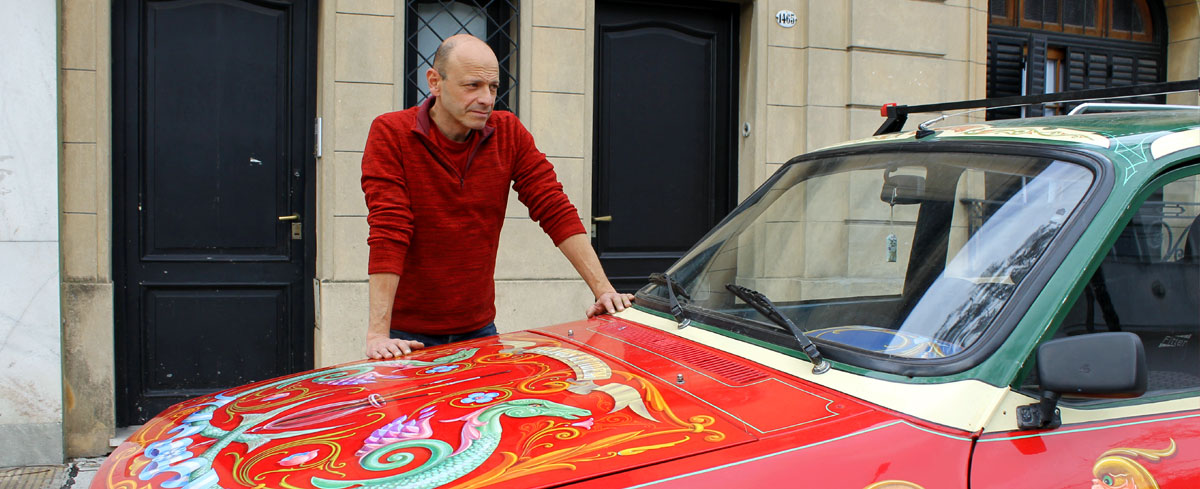 The man he found to finally teach him is one of the artists who has been most aware of the adaptability and potential of the folk tradition, and who has since become well-known in Europe precisely because of his designs for tattoos. Alfredo Genovese learned from the late masters León Untroib (1911 - 1994) and Ricardo Gomez (1926 - 2011), and started, he says, simply because "it was something rich and complicated that no one else was interested in at the time, and that had a lot of potential to be brought up to date." And he's certainly brought it up to date, creating everything from limited edition sports shoes for Nike to bottles for Coca-Cola and Evian, and even a range for Tupperware. In his more personal work, he's sought to break from tradition using different colours and appropriating traditional imagery to tell different stories, whether it's to comment on contemporary Argentine culture or highlight issues such as political corruption.
"It feels nostalgic because it's done by hand," he says, "but I don't think of it as something nostalgic; it's totally current and updated, and part of the iconography of the city."
Having studied at Buenos Aires' School of Fine Arts in the 1980s, he began working in lettering then travelled the world to see if anything similar to fileteado existed elsewhere. His conclusion? There was nothing quite like it.
"You can find comparable styles in the gypsy vehicles in England, and in Tibet and Pakistan," Genovese says, "but it's not the same. Fileteado was born in Buenos Aires and its colours and false volume give it a very personal identity that doesn't exist in any other decorative art."
Having seemingly brought the fileteado to every medium going, one wonders if he has any ambitions left . . .
"Now i'd like to do a plane. That would be good to do. It would be a mobile work of art which would go everywhere."
It would certainly follow the fine tradition of using fileteado to decorate vehicles, and extend fileteado's growing international trajectory. We'll pass on the suggestion on to Aerolineas Argentinas!