"We seek to embed in our society a culture of entrepreneurship and innovation. Where the entrepreneur seeks to create value through innovation, and where innovation is the crucial element in achieving sustainable growth."

Mauricio Macri, Mayor of Buenos Aires 2007 - 2015
Our programmes and incentives for entrepreneurs are designed to drive and reward innovation. They are based on 6 pillars:
With a variety of educational and training schemes adapted to the technological and global age we live in, we equip students and entrepreneurs with skills and information to develop their business ideas.
The Academia Buenos Aires Emprende trains thousands of business starters and owners. It has offices in all 15 comunes of the city, a number of public schools and informal neighbourhoods. Open educational events like the InnovatiBA, co-hosted with professors from the renowned Singularity University, bring international innovation leaders to the city.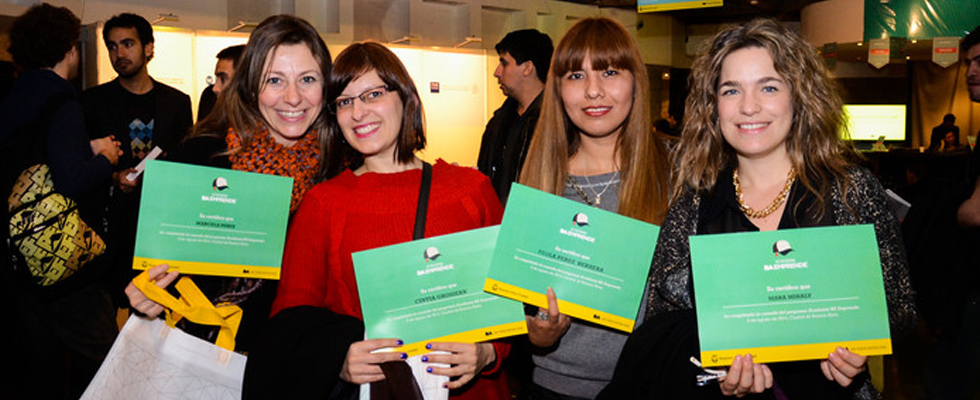 At the international level, the Directorate General for External Trade helps local companies and entrepreneurs scale up their businesses and export their products. It works to position local companies at international trade fairs, runs conferences for entrepreneurs looking to grow internationally and organises courses on everything from how to understand customs procedures to setting up successful franchises. Many of its step-by-step guides are freely available online.
The Directorate-General's regularl BA al Mundo events bring together highly successful business leaders - such as Jay Shuster from Pixar (see video below) and Marcos Galperin, CEO and founder of Mercado Libre - to offer insight and inspiration to graduates and entrepreneurs. 
Entrepreneurial Community
Our collaborative work spaces, incubators and strong entrepreneur networks are important to generating a community of innovative thinkers. City-run events like Entrepreneur Week, Hackathons and Sandbox help to stimulate professional exchange, civic innovation, and youth participation. 
We support entrepreneurial innovation that has a deep social impact. Many of our policies are designed to regenerate low-income areas by creating productive social spaces for interaction, integration and creativity, allowing the local community in particular to profit from the highest quality of information, professionals and tools available.
Go to our Innovation for Inclusion section for more information on the NIDO social innovation centre.
Incubator and accelerator services financed by the City Government and through public-private investment schemes have supported over 30,000 entrepreneurs since 2008, helping them in turn generate a further 10,000 jobs.  
The City Government has invested over ARS $15 million in accelerator projects such as the Aceleradora BA Emprende which offers seed capital to business starters.  Together with these accelerators, we invest in city-based projects with a strong technological and social impact. 
Highly supportive of the open innovation paradigm, we also provide bridging services to connect tech startups and entrepreneurs with big corporations.  
The Entrepreneurship Observatory has been created to monitor and measure the impact of the City Government's initiatives to promote innovation and entrepreneurship, and to contribute to more effective public policy making. Click here for a map of the city's current entrepreneurial environment.  
More detailed information in Spanish on the projects mentioned above can be found on our entrepreneurs website.