While the city of Buenos Aires has enough attractions to keep you busy for days if not weeks and months, as Argentina's main transit hub, it also serves as a convenient base for day trips into the province of Buenos Aires and further afield in the country. From polo and horseriding in the open countryside, to watersports on the river delta, here are a few suggestions for places to visit within an easy distance from the city.
Tigre and the river delta

Just a short train ride north of the city is Tigre and the Paraná Delta, a labyrinthine network of waterways and wooded islands that offer opportunities for watersports, riverside walks, or even relaxation at an island spa. Tigre, the main town on the Delta, is the starting point for regular passenger ferries to the islands, where there are several restaurants and accommodation options. Tigre itself boasts historic rowing clubs, restaurants, a casino and an amusement park. Trains leave regularly from Retiro train station, passing through Lisandro de Torre and Belgrano C.
La Plata

Founded in 1870, the capital city of Buenos Aires province was the first completely planned city in the Americas. La Plata follows a tightly organized grid pattern with a small park or square every six blocks. Consecutively numbered horizontal and vertical streets are crossed at regular intervals by diagonal streets, leading the city to be dubbed the "City of Diagonals". The city is also sometimes referred to as the "City of Linden Trees" because these deciduous trees line so many of the streets. Attractions include the neo-gothic cathedral and the German Renaissance city hall, while children may enjoy the"República de los Niños" or Children's Republic – a "democracy theme park" on the outskirts of the city, complete with child-sized parliament, courthouse, port, airport and hotel. Legend has it that Walt Disney was inspired to create Disneyland after visiting the park during a trip to Argentina in 1950!
San Antonio de Areco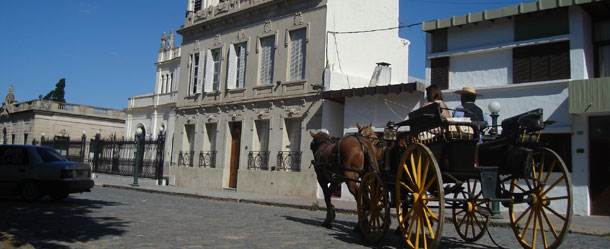 Beyond the urban area surrounding the city, the expansive, flat countryside of the pampas seems to go on forever. These plains were once roamed by the gauchos, Argentina's answer to the cowboy, and many estancias around the town of San Antonio de Areco (pictured) organize "gaucho days" paying tribute to traditional horseriding skills and often giving guests the chance to ride themselves before enjying a traditional asado. You can stay on a working estancia (farmstead), and even try your hand at polo. San Antonio itself has a picturesque old town centre with a gaucho museum (Museo Gauchesco Ricardo Güiraldes), some traditional restaurants and cobbled streets that look like they have barely changed in 100 years. Crowds come to the town for the annual Día de la Tradición festival in November. There are regular buses to San Antonio from Retiro coach station.
Colonia del Sacramento, Uruguay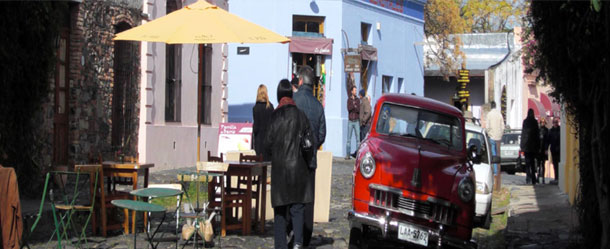 This quaint 17th century colonial town of cobbled streets and flowering bougainvillea is just a short hop across the Rio de la Plata river in Uruguay. The historic quarter is a UNESCO world heritage site and retains a relaxed charm. You can visit the old lighthouse and see the entrance to the old fort, or just enjoy wandering the parks and streets. Three companies, Buquebus, Colonia Express and Seacat, offer regular ferry crossings from Buenos Aires.
Temaiken Biopark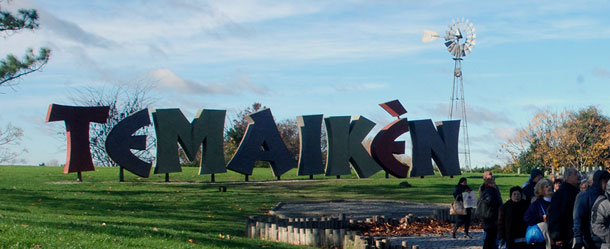 Located north of the city in Escobar, Temaiken is a biopark with exhibits of animals and other wildlife including tigers, hippos and lemurs, as well as native Argentine species. It aims to put a greater emphasis on education and conservation than traditional zoos and makes for an entertaining family day out. The public bus number 60 goes there from the center of Buenos Aires.
Luján
Just 68km from the city, Luján is a place of religious pilgrimage that hides several secrets worth discovering. The highlight is the majestic gothic-style Basílica Nacional, which honours the Virgin of Luján, patron saint of Argentina, and to which millions of followers make pilgrimages every year. The gothic architecture of the church contrasts with the simple colonial style of Latin America's biggest museum complex, the Complejo Museográfico Enrique Udaondo, which includes the Colonial Museum and the Museum of Transport, all against the backdrop of the natural beauty of the Luján river. 
In the surrounding area, visitors can enjoy days in the countryside at traditional estancias, horseriding, polo, and plenty of traditional gastronomy.
San Fernando
Less than an hour away by train, 30km north of the city on the way to Tigre, San Fernando blends nature and history. Highlights include the Sans Souci palace with its neoclassical French architecture inspired by the palace of Versailles. It was built between 1914 and 1918 by the architect René Sergent. Others architectural highlights include the romantic castle-like Palacio Belgrano, and the neo-Roman Parroquia Aránzazu.
Visitors to San Fernando can also visit the islands and spend some time in the Paraná Delta Biosphere Reserve, an area of more than 85,000 hectares that is home to many native species of fauna including capybaras and marsh deer, as well as many sustainable agriculture and eco-tourism projects.
Rosario
Rosario is the city where the Argentine flag was first raised during the war of independence and it has a large monument to the occasion – which is where the president of Argentina usually commemorates June's annual "flag day" national holiday. Birth place of revolutionary leader Ernesto "Che" Guevara and soccer star Lionel Messi, Rosario is now Argentina's third biggest city and benefits from a new train service from Buenos Aires. It has a cosmopolitan cultural scene, and, thanks to its location on the Paraná river, good fish restaurants and a beach.
Further afield
With a little more time to spare, you could head to the coast. Mar del Plata is historically the favorite holiday destination for Buenos Aires residents. The beach gets very crowded during school summer holidays in January and February, but is much more relaxed outside of the peak season. For smaller, more relaxed coastal towns, try Pinamar and Mar de Las Pampas. And if it's hills you're looking for, climbers and mountain bikers will enjoy Tandil, four-hours south of Buenos Aires. Several companies organize sports activities, and after you've got your adrenalin fix, you can take advantage of the city's famous charcuterie. There are regular coaches from Retiro coach station.
And looking even further afield, Buenos Aires' Jorge Newberry Airport has regular domestic flights to destinations throughout Argentina, meaning that even with only a couple of days to spare, major attractions such as the Perito Moreno glaciar, the Iguazú falls, and the vineyards and wineries of Mendoza are easily accessible from Buenos Aires.